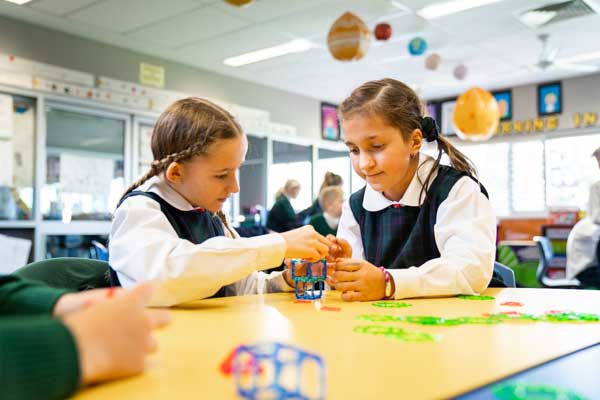 A Sydney Catholic Schools program has helped students at St Finbar's Catholic Primary Schools Sans Souci excel in Mathematics.
The Mathematical Expertise and Excellence (MEE) program has been credited for the school's excellent learning growth in numeracy in the 2018 NAPLAN tests, with average progress from years 3 to 5 more than 25% ahead of the state norm and continuing this trend in 2019.
Central to the MEE program is explicitly teaching important concepts and then inviting students to choose the level of work that's right for them. Success criteria at the beginning of the lesson helps children assess what they already know, a launch task helps them work through key ideas, and they then choose one of four levels of work to build on their knowledge: practice, solve, continue and engage.
Year 5 student Felicia Berios normally completes work at the engage level, and is also involved in a school Maths Olympiad program which extends students further. She said the program differed greatly to Maths lessons at a former school. Students work through problems, but Felicia felt being given the choice to work at a higher or simpler level gave them greater ownership over their work.
Principal Susan Bonello said creating lessons with multiple levels that engage student problem solving and critical thinking skills requires staff to know the curriculum thoroughly and creates a learning environment that favours self-improvement and empowerment, so every child can achieve their best.
'Our teachers engage in professional development and spend many hours planning, collaborating, providing support and feedback to each other and utilising data to ensure all students grow in their Mathematical knowledge and skills,' she said.